A sight of Kansai cherry blossoms!-Osaka Castle 1-🏯
Hello!
Japan · Kansai is coming soon, spring season of cherry blossoms!
I would like to introduce the sights and sights of such cherry blossoms in Kansai.
First of all, I would like to introduce the Kansai landmark, cherry blossoms at Osaka Castle!🏯
First of all it is a review of Osaka Castle.
The site area is 1.2 km north / north and 1.35 km east to west, it is a castle built by Toyotomi Hideyoshi, the founder of the country that was the most dominant from farmers about 600 years ago.
There are some nearest stations, and it is one of the outstanding access Kansai's strongest tourist attractions. Every season, there are various fun, but this time I will pick up the spring cherry blossoms Osaka Castle!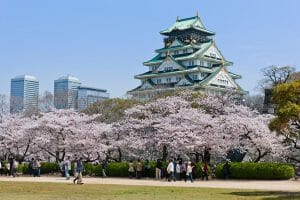 There are about 2000 cherry blossom trees in Osaka, but first of all I will introduce Nishinomaru garden.
In the Nishinomaru garden, there are about 300 cherry blossom trees, usually open from 9: 00-17: 00, but the cherry blossom season only opens until 21:00, from 18: 00 to the lantern inside the garden You will also have a light, you will be able to watch fantastic cherry blossoms night.
Inside the park, you can also open a simple shop and enjoy viewing the cherry blossoms while watching Osaka Castle.In the Nishinomaru garden, the use of firearms is prohibited, BBQ etc. can not be done.
Before going to Osaka Castle, please buy a boxed lunch or drink and enjoy the cherry blossoms and Osaka Castle.
Please pay attention to the Nishinomaru garden as it costs 300 yen as admission fee.