Happy New Year from Japan / Kansai!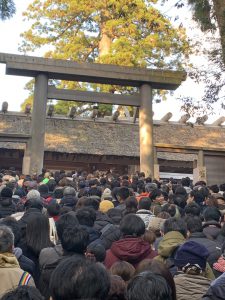 A Happy New Year! 🌅
I wish you a happy and happy year again from Japan / Kansai.
Well, today we will talk about one of the Japanese New Year culture, "Hatsumode".
"Hatsumode" is an event that visits shrines and temples in order to thank God for his safe last year and ask God for his happiness this year.
There are about 80,000 shrines in Japan, but the one with the highest ceremony is "Ise Jingu", along with "Izumo Taisha" .
"Ise Jingu" has a history of about 2,000 years, and is famous as a representative power spot in Japan where people from all over Japan have been gathering since ancient times.
"Ise Jingu" is very crowded during New Year's holidays, and the Prime Minister of Japan also visits the New Year every year.
Of course it is good to pray for the happiness of one year in the New Year, but Ise Jingu other than New Year's Day when the congestion eases is also highly recommended.
"Ise Jingu" Shrine has two shrines, "Naiku" and "Geku", each located slightly apart.
It is an official practice to visit in the order of "Geku" → "Naiku", but in fact most Japanese people only end up visiting "Geku".
The reason is that it takes about 1 hour on foot and 20 minutes by bus from "Geku" to "Naiku", and there are many shrines and lots of shops on the shrine. There is, and you will be satisfied with "Geku".
Not to mention worship at Ise Jingu Shrine, there are many people who want to see many high quality food and souvenirs on this worship path and also one of the purposes of going to "Ise Jingu".
"Dried fish" "Croquette" "Tempura" "Skewered brand beef" "Ise Udon" … etc
It would be nice to have these wonderful memories of Japan when eating and walking with local Ise local beer! !
There are still a few foreigners compared to the city center, but by all means it's about 2 hours by train from Kansai / Osaka / Kintetsu Namba Station, so by all means travel to Ise Jingu which I love. Why not consider it! ?