The convenience store in Japan is amazing! !
Hello!
A convenience store is also indispensable for Japanese / Kansai people!
Foreign tourists may also be sure to use it while staying in Japan / Kansai.
What can be bought at convenience stores in Japan …
◼ ︎ candy, juice, tea, ice cream
■ alcohol, Japanese snacks
◼ Lunch box, Bread meal, Oden (seasonal only)
■ ︎ toothbrush, cosmetics other daily necessities
■ Bread, rice balls, Japanese side dishes
■ Seasonings, Canned
■ Tobacco, postcards, stamps
■ magazine
Services in convenience stores in Japan …
◼ ︎ Free toilet (There is no possibility in the convenience store in the middle of downtown area)
◼ ︎ copy
◼ ︎ Mail, Takkyubin
◼ ︎ Payment of utility fee
There are also many convenience stores in the Kansai town and it is also useful for crime prevention at night.
In addition, the convenience store in Japan has private brand products of each convenience store, there are lots of safe and delicious products that are really good quality, safe and secure!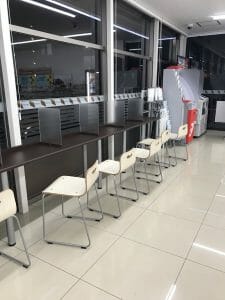 There are various kinds of brand products in private, there are various kinds, sweets, rice balls for ice cream, frozen foods …, none of them are getting much cheaper!
Recently, there are shops with eat-in space, so you can eat delicatessen, oden, alcohol in the store on the spot.Eat-in space users can also use power outlets, so you can charge mobile phones!
Convenience stores that you see in Kansai as well are "Seven Eleven", "Family Mart", "Lawson", everything goes into the store, products are displayed very beautifully, Amazing Japan! Amazing Kansai! I think you can feel it.