"Arima Onsen" in Kansai is special amazing!
Hello.
Today, I will introduce "Arima Onsen" which everyone knows if it is Japanese / Kansai people! !
"Arima Onsen" is a hot spring resort where Japanese historical heroes also captivated the historical heroes of Japan, which is very easy to access from Kansai / Osaka by car, bus and train for about 1 hour!
"Arima Onsen" is a hot spring representative of Kansai, it is also a hot spring resort comparable to the western yokozuna, it has plenty of shops as a sightseeing spot as well as the quality of hot springs and you can enjoy it all day long That's it!
There are lots of accommodation facilities in "Arima Onsen", but there are things with lunch and hotel hot spring set as a set in day-trip plan!
There are differences depending on the hotel and meal content, but the approximate adults are 8000 yen / person.
If you enjoy hot springs more easily without reservation, it may be better to use public hot springs! !
There are three hot springs in Arima Onsen, "Kin no yu", "Gin no yu" and "Taiko no yu".
"KIn no yu" is famous for golden (brown) hot water containing a lot of iron, hot water temperature is slightly higher.In addition, "Gin no yu" is colorless transparent water.
Both are becoming old-fashioned public baths in the Kansai, enjoyed among the common people since ancient times, making it narrow and creating a feeling of history.
Next to "Kin no Yu" there is a free footbath facility, and you can warm the bottom of the knee with the Arima hot spring.When using footbath, it is good to take a towel or a handkerchie wiping your feet!
"Taiko no yu" has amusement facilities for hot springs where you can enjoy meals in open-air baths, gold water, silver water. The price is 2,500 yen / person for adults.
"Taiko no yu" will be re-opened after the renovation on April 1, 2019! !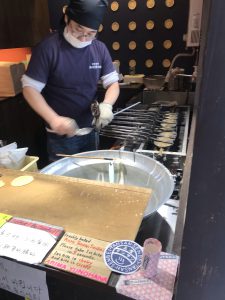 Another way of enjoying "Arima Onsen" is a walk while shopping in hot-spring town and taking a take-out meal!Also, there are some historic shrines in Arima Onsen Street, we promise to be able to fully enjoy the day!
There is a well-balanced balance between the historic old spa town and the new shops, croquette and local beer etc in the famous "carbonated crackers", "Arima carbonated water", "hot spring manjyu" … etc
Access on the way back to Osaka, direct bus is recommended, but it is good to first make a reservation on the bus terminal at the bus terminal after arrival! !