About "Tukidashi(a small appetizer)",which is common in Japan Izakaya
Hello.
Japan is getting more foreign tourists year by year. Among them, the number of foreign tourists to Kansai / Osaka is increasing.
So, I'll tell you when I'm talking about "Tukidashi" (or "Otooshi", depending on the area) that I see at a Japanese Izakaya  Japanese culture · Kansai culture "Izakaya" is amazing! that has been in trouble recently.
"Tukidashi" refers to a simple dish that is served before an order is received at a tavern.
There is a theory that it might have started around 1935 before the war, and it seems to be a relatively new system.
It was born out of consideration for customers who would like to have a meal that can be eaten with the liquor provided before the order is served. Originally, it was born from the "Omotenashi(heart of hospitality)". For this reason, "Tukidashi" is basically something that suits liquor, and it is almost impossible to wait for it to come out.
However, it is not a system in any Izakaya, but rather it is set up in many chains and slightly higher stores, and about 60% of the stores have "Tukidashi".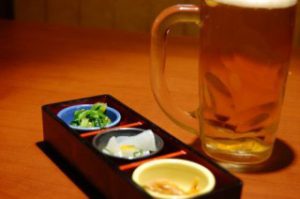 The price varies depending on the store, but it is about 300-500 yen, and basically there is no menu and you cannot select it.
It may be easier for foreign tourists to explain the protrusion as being included in the "table charge".
A tweet from a foreign tourist who came to Japan also had the following reaction:
I went to an izakaya near Daimon recently and was surprised to see a charge for "tukidashi" and a prominent sign in English telling me about it. They have a similar custom in Portugal (couvert),where they bring bread,olives,etc and sting you mightily unless you refuse.

— Tony Atkinson (@tonyatkinson56) September 3, 2018
I've always just assumed there will be a "cover" charge when going to an izakaya,even though on my basically-vegetarian dining habit I can rarely eat the otoshi. (Sometimes if I talk fast I can get them to take it back or swap out something I can eat).

— Froward Jason Truesdell (@JasnTru) September 3, 2018

C'est juste un otoshi ça justifie le prix que tu paies pour ta place dans l'izakaya . En général entre 300 et 500 yen

— Le Pandaman (@JapanPandaman) August 2, 2018

Ppl say "It's amazing because at restaurants in Japan you don't have to tip" but there's this concept called 'tukidashi',lemme tell u about it

— James Montagna (@JamesPopStar) December 13, 2016
Please enjoy "Tukidashi" as part of the Japanese culture as "Omotenashi(hospitality)" until the ordered food is served.